Florida Everglades Parks
Fakahatchee Strand State Preserve
Fakahatchee Strand State Preserve is located north of Everglades City and lies adjacent to the western border of the Big Cypress National Preserve. It is owned by the Florida Department of Environmental Protection. The Strandís 74,000 acres are part of the main drainage slough of the Big Cypress Swamp. A 2,000-foot-long boardwalk at Big Cypress Bend, accessible via the US 41 (Tamiami Trail), winds through old growth cypress swampland. Trails on old logging tramroads, remaining from past lumbering operations in the early 1900ís, also provide access to the preserve.
---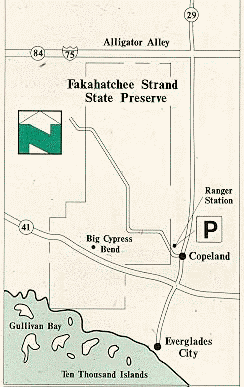 Open from 8 am to sundown 365 days a year.

No pets allowed.

Firearms and intoxicants are prohibited.

Facilities are limited.

A 2,000-foot-long boardwalk winds through virgin cypress enabling visitors to experience the beauty of this unusual swamp. Activities include wildlife viewing and guided canoe trips.

For further information contact:
Fakahatchee Strand State Preserve
P O Box 548
Copeland, FL 34137
TELEPHONE 239-695-4593