Bird Photos - Page 2 | Bird Photos - Page 3
Florida Everglades Birds and Wildlife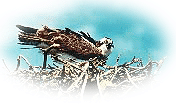 Osprey
(Pandion haliactus)

Family - Pandioninae
Identification - White cap, chin, throat, breast, belly; hooked beak
Food - Usually preys on fish in shallow water
Nest - commonly found on channel markers, in trees, and radio towers near water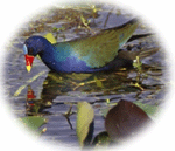 Purple Gallinule
(Porphyrula martinica)
Family - Rallidae
Identification - Breast and head purple in color. Beak is red with yellow on tip. Legs are long and yellow, often found walking across lily pads.
Food - Plants, snails, insects, mollusks
Nest - Nest is often made on floating water plants. The Purple Gallinule can be found in fresh marshes, swamps and ponds.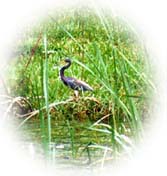 Great Blue Heron
(Ardea herodias)
Family - Ardeidae
Identification - Long legs and neck. Neck in rest and flight usually held in S shape. Blue grey in color on back, belly, and wings
Food - Frogs, small fish, salamanders, lizards, snakes, and crawfish
Nest - commonly found on channel markers, in trees, and radio towers near water. Uses twigs and small branches for the nest.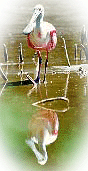 Roseate Spoonbill
(Ajaia ajaja)
Family - Threskiornithidae
Identification - Body is pink and white with a touch of red feathers. The beak is long, looks like a spoon with the flat curveture at tip. Tail feathers and some feathers at the base of the neck are yellow in color, neck is white.
Food - crustaceans, insects, mollusks, amphibians, plants, small fish, shellfish, and shrimp.
Nest - They build their nests in the trees out of branches, leaves, and grass.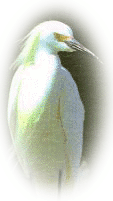 Snowy Egret
(Egretta thula)
Family - Ardeidae
Identification - White bird, black bill, black legs, and yellow feet. The small area between the eyes and beak is yellow. The Snowy Egret and Little Egret are very similar.
Food - Small fish
Nest - are made of twigs and are found in the trees.
Photographs provided by Sandee Harraden -- Everglades City